Tim Smith
President / Pharmacist / Consultant, Blue Spruce Ventures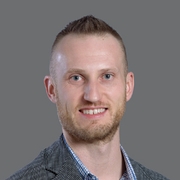 Tim talks about his work providing opioid agonist therapy in Winnipeg, MB, and in various locations in Manitoba, Ontario, Northwest Territories and Nunavut. The Opioid Stewardship Spotlight is an ongoing series in support of the Pharmacist Opioid Stewardship Initiative (POSI), part of the Canadian Pharmacist Harmonized Scope 2020.
Q&A with Tim
You have worked with patients providing opioid agonist therapy (OAT) in various parts of the country. What are the challenges of working as a "relief" pharmacist when it comes to providing OAT services to your patients?
When working in different pharmacies across several provinces and territories one of the challenges is getting to know and building rapport with patients. It can be frustrating for patients dealing with new faces in the pharmacy, who don't know them, don't know their histories, don't recognize their faces. I try to show a genuine interest in them and their well-being so they feel comfortable receiving services from me and, hopefully, coming to me with any questions or concerns they may have. I ask questions, wear a smile and don't rush to judgment.

Because these relationships often don't develop overnight, I have to remember to slow down and not jump into things. I need to be careful to build rapport and collect information before discussing or proposing interventions, even if these interventions may seem obvious at first glance.
Is there a particular need in the communities you serve (Manitoba, Northwest Territories, Nunavut, Northwestern Ontario) and are there differences in each?
While I try to focus on the strengths, resources and positive attributes of the communities I serve, you cannot escape the fact that many of these communities are dealing with significant health issues, including substance use disorders as the result of colonization, systemic racism and intergenerational trauma. Access to health providers—especially pharmacists, as well as mental health professionals—is often limited. Broadly speaking, communities are also challenged by restricted employment and education opportunities, infrastructure such as recreation facilities or even broadband-quality internet access. These social determinants significantly impact individual and community health.

That said, each community and each patient certainly have their own unique histories and experiences, and it is important not to fall back on stereotypes or monolithic understandings. This is where asking questions, when invited, and listening are key.

Typically, what services do you provide to your patients?
In my previous roles as a pharmacy manager and in pharmacy operations, I worked to ensure patients were able to access opioid-related services such as OAT, take-home naloxone kits, compliance packaging, observed dosing, medication reviews to optimize medication therapy and medication information.

During my 6 years as pharmacy manager in northwestern Ontario, our pharmacy supported the development and operation of community-run buprenorphine-naloxone programs in several remote First Nations. Beyond providing the dispensing and distribution of medication to these programs, I frequently flew to these communities to participate in and support client induction groups with services such as medication reviews, tobacco cessation, and education on opioid use disorder (OUD) and how buprenorphine-naloxone works.
Beyond providing these services, attending these programs helped build relationships with these patients and the program workers who often lived hundreds of kilometres away from our pharmacy and may not routinely see me or my team.

In a subsequent role in operations supporting pharmacies across northern Canada, I am particularly proud of leading an initiative ensuring all our pharmacies offered take-home naloxone kits to eligible patients, including co-prescribing/recommending, where appropriate, with opioids dispensed to high-risk patients. We were among the first pharmacies in northern Canada to do so and looked to engage clients, health providers and community groups alike.

In my current practice I do a lot of education around take-home naloxone and attempt to remove the stigma many patients feel around being offered this life-saving medication. I also work with patients through comprehensive medication reviews to optimize opioid and non-opioid treatment and emphasize the importance of nutrition, physical activity and stress management, as patients have the capacity to add.
What are the limitations of providing OAT in northern communities?

Logistics and funding are obvious challenges, especially when patients reside in communities that are distant from the pharmacies serving them. For example, without a pharmacy present, many communities do not have access to methadone. This absence has led to many First Nations establishing their own community-driven buprenorphine-naloxone programs despite inconsistent funding commitments from the federal government. Communities are frequently unable to make long-term plans because reapplying for funding must be done annually.

Access to counselling and aftercare is a major limitation of some of these programs because funding for, or even access to, appropriate practitioners and programs may be insufficient or altogether unavailable. OAT is a valuable tool, but it is only one piece of the recovery puzzle and more supports are needed.

There can also be differing expectations or understandings in terms of the duration of treatment and how chronic is the substance use disorder. Dialogue with community leadership is required early to ensure a mutual understanding that, for many, OAT is not a short-term answer but can involve years of treatment, especially with limited access to non-pharmacological supports and without addressing the social determinants. This has implications on the viability and the acceptance of these programs.
What role do pharmacists play in helping patients with OUD?

We are typically the health professional they see most often. Beyond the obvious role of ensuring right drug, right dose, right time, etc., pharmacists can become a significant social support for these patients and even a confidante. We can play a role in linking patients to social, health, and even financial supports and facilitate communication between all the members of their care team. It is also critical that we help destigmatize opioid use disorder and make our patients feel valued as people.

Unfortunately, we are also often gatekeepers to patients receiving treatment, in terms of receiving and dispensing prescriptions, enforcing rules, collecting payment and other ways. We need to be conscious of this power differential and how it can negatively impact our patients.
What prompted your interest in OAT?

When I started my practice in northwestern Ontario in 2009 it was the height of the opioid epidemic in the region. Some communities even declared states of emergency related to substance use issues. As communities grappled with how to deal with the issue, OAT programs began to emerge.

I was fortunate enough to meet and acquire a mentor in a physician specializing in addiction medicine who introduced me to concepts like trauma-informed care, motivational interviewing and cognitive behavioral therapy that were not part of my pharmacy education. She was the one who encouraged me to develop this part of my practice further, which led to me obtaining a certificate in Opioid Dependence Treatment from the Centre for Addiction and Mental Health (CAMH). This allowed me to better support patients, prescribers, and communities we served.

What kind of an impact do you have on patients?

I don't think that's for me to say! I like to think that I help to put them at ease, to feel supported, to feel they are receiving services in an environment free of judgment. I want them to feel they can come to me with their issues and they can disclose information to me safely. It's probably more relevant to talk about the impact clients have on me.

That said, the positive impacts of OAT are well-documented in the literature. One of the First Nations I served in northwestern Ontario conducted a study to examine the impacts of the buprenorphine-naloxone program in their community. Within 1 year of launching, criminal charges and child protection cases had fallen dramatically, while school attendance, flu immunization rates and even spending at the community's general store were up significantly. It is clear that serving these clients has dramatic and important effects. (Full text of the study is available online.)

What do your patients tell you?

I think the biggest thing I have learned from spending time with my patients is just how strong many of them are. They deal with so many challenges and barriers in their lives and the strength they display in persevering is inspiring to me. The path forward is not always straight or uninterrupted, but they keep on going. I don't think patients receiving this sort of treatment get enough credit for their strength.

The other thing is that they are just people. They laugh, they joke, they smile, they cry. I think it's important to understand that while they may be dealing with opioid use disorder (often among other challenges), they are not defined by their condition and should not be treated as though they are.

What does a "vision for pharmacists as opioid stewards" mean to you?

Opioids are powerful medications with tremendous use in certain circumstances and with tremendous potential for harm in others. All pharmacists need to see themselves as opioid stewards and ensure that we are appropriately assessing and engaging with our patients to help optimize their health and minimize their risks. We need to become more comfortable collaborating with physicians and other prescribers to modify and guide treatments as well as taking on a larger and, at times, more independent role to ensure patient safety.

What needs to happen for the vision for pharmacists' opioid stewardship to become a reality?

The biggest thing is to really affect a culture shift within the profession, developing a stronger professional identity and more confidence among pharmacists. Because regulations around narcotics are so strong and because the role of physicians is so entrenched, I feel many pharmacists are reluctant to challenge prescribers even when they have concerns such as appropriate indication, dosage, quantity, duration of treatment or frequency of fills.

The other enabling factor is to continue to expand our scope of practice and harmonize it across the entire country. We are trained to be medication experts but, in many cases, our ability to direct therapy is limited by regulation. Even with the current federal CDSA exemptions in place during the COVID-19 pandemic, 2 of the jurisdictions in which I am licensed (Manitoba and Nunavut) have failed to make corresponding regulatory changes to enable these exemptions. Pharmacists across Canada should be able to serve their communities to the same extent without respect to geography.

How can we break down the stigma that exists with those living with OUD?

It starts with training and education. Pharmacy schools and regulators need to take more active steps to ensure pharmacists are thoroughly knowledgeable of the impacts of the social determinants of health, of colonization, of intergenerational trauma in contributing to substance use disorders. When these concepts are more fully understood, we can begin to meet clients where they are at and provide patient-centered, trauma-informed care.

People with opioid use disorder are often self-medicating mental health issues that are not adequately treated by our health care system and that are compounded by inequities in our society. We need to understand this and consider OUD in the same way we consider diabetes or heart disease—as a chronic, intermittently relapsing disease influenced by experience and environment rather than an individual's personal failings. We can then practice from a place of compassion rather than judgment. As pharmacists, we need to model this for our colleagues and staff and ensure our pharmacies are safe places for our clients.

Any advice to pharmacists who want to be able to work with patients providing OAT?

Take a training program, whether in-person or online. There are many excellent ones offered across the country. And find a colleague with some experience who can be a mentor for you or provide guidance when you need it.

Most importantly, just get started. I don't believe any pharmacy or pharmacist should be turning away patients when there is a request or demonstrated need in their communities. Regardless of where you live, there are clients struggling with these issues and whether you have 1 client on OAT or hundreds, you have the opportunity to make a difference and save lives.
The Opioid Stewardship Spotlight is an ongoing series in support of the Pharmacist Opioid Stewardship Initiative (POSI), part of the Canadian Pharmacists' Harmonized Scope 2020 (CPHS 2020).