Mona Kwong
Pharmacy Advisor and Director, Addiction Pharmacy Fellowship Program, BC Centre on Substance Use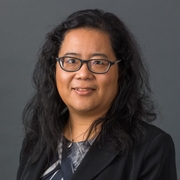 Mona talks about opioid agonist therapy as one part of the treatment for opioid use disorder and how pharmacists can become opioid stewards. The Opioid Stewardship Spotlight is an ongoing series in support of the Pharmacist Opioid Stewardship Initiative (POSI), part of the Canadian Pharmacist Harmonized Scope 2020.
Q&A with Mona
You work with patients providing opioid agonist therapy (OAT). What does that entail?
OAT is a treatment for addiction to opioid drugs (known as an opioid use disorder, or OUD for short) such as heroin, oxycodone, hydromorphone, fentanyl and Percocet. The therapy involves taking the opioid agonists methadone or buprenorphine/naloxone. These medications work to prevent withdrawal and reduce cravings for opioid drugs. People with an opioid use disorder can take OAT to help stabilize their lives and to reduce the harms related to their drug use, including overdose. It's one part of the treatment for OUD and works best when combined with other types of support, such as individual or group counselling, residential treatment and access to harm reduction services and supplies.
Why do pharmacists have such an important role in helping patients with opioid use disorder (OUD)?
We have many one-on-one personal connections with patients who traditionally have had poor experiences with the health care system because of their addiction. We can help support therapy as part of the extension of the health care team. We are frontline health care providers with many touch points within the community we serve and can further help to combat the stigma of OUD by educating others in the public about it and mental health. We can be that resource of knowledge about these conditions, in addition to providing resources about overdose prevention.
What does a "vision for pharmacists as opioid stewards" mean to you?
We are stewards of the proper use of medications to support the health of individuals. As medication experts we have the knowledge, skills, and abilities to contribute to better management and better advocacy for patients with OUD, helping to address the gaps in the patient's care pathway.
How did you get started – why did you want to work in this area?
I got started in the field of mental health in my early 20s in my work with HIV in a west end Vancouver pharmacy. I have always volunteered with those that needed an extra voice and it was important to me to find work that had some component of advocacy when it came time to train and work in pharmacy.
What kind of an impact do you have on patients?
It's more of what impact they have on me. Our patients and their peer navigators teach our team so much about the gaps and misunderstandings in the system. Sharing helps to inform how to make the systems better from a higher policy level and to how to apply learnings to better care for other patients. It helps me be a better advocate for patients from a systems perspective.
What do your patients tell you?
A patient shared with me recently that there is no judgment at our pharmacy from all the staff, including the students we train in rotations. He truly appreciates how he is treated and notices we treat everyone the same no matter what type of medications they were on or if they were dressed differently. He feels welcomed and feels it is his duty, too, to train the students for their future as good pharmacists. This is the reason he, as well as other patients, shares stories with the students.
You are also a pharmacy owner — do you feel that you have the opportunity to help patients using opioids or other controlled substances in your daily practice?
I was a manager starting in 2002 and didn't become a managing partner until 2013. My pharmacist owners always gave me the freedom to envision the store I wanted and this gave me the opportunity to focus on areas such as HIV, mental health, frail elderly and chronic diseases.
I was fortunate to be allowed this latitude when stigma was still so prevalent with many other pharmacies limited in their care and knowledge of some of these areas of care. However, we have come a long way now and there are so many resources to continue decreasing the stigma and increasing the learning in OUD such as the OUD Guidelines, BC ECHO OUD Series, the Provincial Opioid Addiction Treatment Support Program (POATSP), Addiction Care and Treatment Online Courses at UBC (ACTOC), and even a 24/7 clinician and pharmacist support line in BC.
What needs to happen for the vision for pharmacists' opioid stewardship to become a reality?
Charting and access to a patient's primary care network will be helpful in navigating and supporting care of the patient. Funding for clinical services, other than dispensing and face-to-face care in pharmacies, will expand our reach to support more in our communities. Some that come to mind include virtual patient care opportunities from a pharmacy (phone or video) or even an integration of the patient's community pharmacist within the patient's care network.
Any advice to pharmacists who want to be able to work with patients providing OAT?
It is important to pause and remember to help understand the patient's goals of therapy and not to focus on how you want the patient's goals to be.
It is important to re-evaluate and reflect on your own biases and to learn and share more about how stigma impacts your patients with mental health and substance use disorders and recognize how this can affect the care they receive.
Also, recognizing the language we use can be stigmatizing, so focus on reducing stigma by using respectful, person-centred language. That means, for instance, not calling someone an addict (instead, someone with a substance use disorder). Our unconscious stigmatizing can actually discourage people from seeking our support.
There is lack of training in our previous studies in the area of mental health and substance use disorders but there are so many new opportunities to learn with different types of resources.
The Opioid Stewardship Spotlight is an ongoing series in support of the Pharmacist Opioid Stewardship Initiative (POSI), part of the Canadian Pharmacists' Harmonized Scope 2020 (CPHS 2020).