Cole Mondor
Pharmacist Owner/Manager, Mint Health+Drugs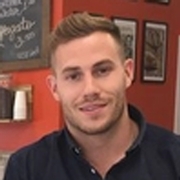 Cole talks about his work providing opioid agonist therapy to patients in Edmonton's inner-city. The Opioid Stewardship Spotlight is an ongoing series in support of the Pharmacist Opioid Stewardship Initiative (POSI), part of the Canadian Pharmacist Harmonized Scope 2020.
Q&A with Cole
You work with patients providing opioid agonist therapy (OAT). What does that entail in your community pharmacy practice?
Opioid agonist therapy management is a significant part of our pharmacy practice in Edmonton's inner-city. Our role involves acting as facilitators, rather than controllers, of our patients' journey to recover from addiction and dependence. We assess patients on their dependent use of opioids and support them when it comes to the formulation, dosage and overall adherence to their therapy. Our community provides a safe space for patients to receive medication therapy support as well as empowers them to play an active role in their recovery.
What is the particular need in your community in Edmonton?
Our practice is in an area of Edmonton's inner-city that is home to a particularly complex population with high rates of homelessness, addiction and mental health issues. IV drug use, including opiates, and its associated complications, are a huge concern. Over the last few years, and particularly within the last year, we've seen significant increases in the number of overdose incidents and deaths in the immediate area. Given these issues, there is a great need for opioid agonist therapy for our patients and in the community at large.

What role do pharmacists play in helping patients with opioid use disorder (OUD)?
We are one of the most important parts of a patient's circle of care in treating their opioid use disorder. Following the initial assessment by their primary care provider and prescriber, the patient is seen most frequently by a pharmacist throughout the duration of their treatment. Daily, or more frequent, visits are commonplace in our practice. These regular touchpoints provide ample opportunity for us to understand their use patterns, habits, lifestyle factors, etc., that all add to the overall picture of their addiction. We are relied on by our patients' primary care providers to oversee the outcomes of their treatment and inform them of any missteps or concerns that may arise. We're grateful to have a highly collaborative practice with our patients' primary health care providers.

What does a "vision for pharmacists as opioid stewards" mean to you?
A vision for pharmacists as opioid stewards highlights our role as accessible health care providers who can meet patients where they are when it comes to their opioid use and work alongside them to overcome barriers in their recovery. This vision is particularly relevant for pharmacists who interact with patients on a regular basis, if not daily, when compared to other members of the health care team. As opioid stewards, pharmacists will be able to optimize opioid agonist therapy by altering doses and renewing prescriptions based on patient assessment and substance use patterns when they come to the pharmacy.
What needs to happen for the vision for pharmacists' as opioid stewardship to become a reality?
Having additional scope of practice for opioid management by pharmacists would go a long way to ensuring this vision becomes reality. Furthermore, interprofessional collaboration that highlights the role of pharmacists in the health care team will also help in the development of pharmacists as opioid stewards.

What prompted you to provide these services?
As the most accessible health care professional in our community, we weren't prompted to provide these services so much as we recognized it was a necessity. As the opioid crisis continues, we've also begun to understand that the ability for us to act in a timely and effective manner is crucially important. Our practice needs to adapt to take the well-being of our community members into account as it's often a matter of life and death.

What kind of an impact do you have on patients?
I really think that the services we provide have a significant impact on the rehabilitation of patients experiencing opioid dependence. Additionally, our staff serve as confidantes and provide non-judgmental care for patients in their recovery journey. Our staff also act as a go-between by directing patients to a variety of available community resources, such as social workers, food and shelter services, detoxification and treatment facilities, etc... Our patients trust us to connect them with the resources they need to survive.

What do your patients tell you?
We have received positive feedback from our patients currently on opioid agonist therapy. They appreciate our staff for their supportive care and unwavering belief in their ability to recover despite their often-tumultuous road to recovery.

Any advice to pharmacists who want to be able to work with patients providing OAT?
It's important to recognize that patients have different experiences and different coping mechanisms that may have led to their use of opioids, among other substances, in the first place. We would advise that pharmacists check their underlying biases when it comes to substance use and not form perceptions about an individual's lifestyle based on their therapy. We would also recommend pharmacists invite their patients to play an active and participatory role in their health care. Providing empathetic and trauma informed care is essential to empowering patients to regain control over their lives.
The Opioid Stewardship Spotlight is an ongoing series in support of the Pharmacist Opioid Stewardship Initiative (POSI), part of the Canadian Pharmacists' Harmonized Scope 2020 (CPHS 2020).