CPhA Patient Care Achievement Award for Specialty Practice
Philippe De Grandpré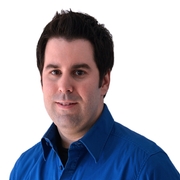 As a community pharmacist specializing in chronic pain management, Philippe De Grandpré's most fulfilling moments are seeing his patients smile again. "What I like most about my work is getting to know my patients, to understand their pain and how it affects their lives," he says. "From there, I am able to choose the right solution for that patient, and adjust dosages to fit their specific needs."
Over the past six years, Philippe has developed a new model of care for chronic pain management in community pharmacy. His innovative evaluation tools and methods, combined with strong relationships with prescribers and patients, have given Philippe the knowledge and ability to appropriately adjust pharmacotherapy for each patient to suit their individual needs. Working closely with the medical team, Philippe fine tunes the use of pain medication and helps his patients start living their lives again. "With our aging population, the complexity of drug therapy requires a conductor to ensure that all medications are useful and play their part without breaking the harmony," he explains. "Pharmacists are in an excellent position to
adjust, eliminate or add medications to improve treatment outcomes."
Philippe has completed a number of specialty courses, including pain management, palliative care, addictions, compounding and business administration. He is a wellrespected teacher and mentor across Quebec, teaching students in a variety of health professions and speaking regularly to patient advocacy groups. He's also active in his
community and has climbed Mount Kilimanjaro and to Everest Base Camp to raise money for cancer research.
Philippe is a 2006 pharmacy graduate of the University of Montreal and a 2012 recipient of the Innovation Award from l'Ordre des Pharmaciens du Quebec.
How do you see your role evolving as the health care system changes?
My practice in pain management shows me that pharmacists can have a major impact on patients' lives when they are involved in reaching therapeutic targets. A trusting relationship between the doctor, the pharmacist and the patient is paramount and can improve care and reduce costs.