CPhA Patient Care Achievement Award for Innovation
Judith Soon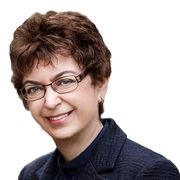 Judith Soon is a pioneer in women's reproductive health who has dedicated her life's work to improving options for women by optimizing the role of the pharmacist, especially in rural and remote areas. Her role as the National Pharmacist Expert on Mifegymiso is truly innovative and her efforts to bring pharmacists and physicians together to provide women in their communities with a new non-invasive medical abortion will have a profound impact on both patients and the health care system.
When Health Canada approved Mifegymiso, it specified that the drug could only be dispensed by physicians, creating inequitable access in rural and remote areas. Judith began collaborating with the Society of Obstetricians & Gyneacologists of Canada, CPhA, the College of Family Physicians of Canada and the College of Pharmacists of BC to facilitate the revision of that clause to enable pharmacists to order the drug, dispense prescriptions written by physicians, enter prescriptions into the drug dispensing system and facilitate public and private billing procedures. Her efforts have included contributing to the development of clinical guidelines, collaborating with physicians to enhance safe and convenient access across Canada and assisting in the development of a training program to certify physicians and pharmacists involved with the distribution and dispensing of the drug.
What is truly unique about Judith's practice is the collegial and synergistic interprofessional collaboration between specialists, family physicians and pharmacists committed to ensuring Canadian women have access to Mifegymiso wherever they live. The cohesive and standardized knowledge that will be gained by providing the same training to all these
health care providers will greatly benefit patients as they communicate with their health care team, and will foster future interprofessional opportunities.
What do you like most about what you do?
"I am passionate about improving access to options for sexual health, especially for those living in rural and remote settings. What motivates me is making a positive difference in the lives of women, not only in Canada, but influencing what happens in other countries."