CPhA Patient Care Achievement Award for Health Promotion
Morenike Olaosebikan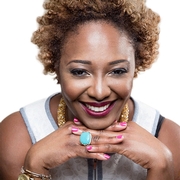 Morenike Olaosebikan has a passion for understanding complex health issues and for implementing collaborative practice methods to help change behaviours for her patients. She has shown exemplary commitment to health promotion and public health above and beyond traditional community pharmacy practice.
In August 2014 Morenike trained as a facilitator for QuitCore, a program that provides patients with the tools, strategies and skills they need to quit smoking. Recognizing the need for smoking cessation support for patients living in recovery centres, Morenike spearheaded the incorporation of QuitCore into the Edmonton Dream Centre, a facility for women recovering from various traumas, addiction and abuse. Her innovative approach to bringing these services to a special population resulted in the creation of a novel program that is being implemented across the province. "The ability to collaborate on new community programs gives me hope that more people will see that some health care problems can be addressed in partnership with the friendly neighbourhood community pharmacist," she explains.
Morenike is also committed to engaging the public on topics surrounding HIV infection in Alberta. She is the founder of the Ribbon Rouge Foundation, an organization focused
on changing behaviours and opinions through storytelling and the arts. The Foundation features a unique student mentorship program that gives students the opportunity to
connect with those living with HIV, learning their stories and sharing them through art. Her work with the Foundation led to her selection as a member of the provincial steering
committee currently creating the 2016-2020 Sexually Transmitted and Blood Borne Infection Strategic Plan.
Morenike is a 2009 pharmacy graduate from the University of Alberta. She is currently pursuing a Social Innovation Certificate from Simon Fraser University and owns a
Shoppers Drug Mart in Edmonton, Alberta.
How do you see your role evolving?
"I see our role evolving as health care providers whose focus is the overall health and wellbeing of our patients. I hope to continue to collaborate cross-sectorally to promote holistic health care framed through pharmaceutical patient-centred care perspectives in ways that, at the same time, influence public health."