CPhA New Practitioner Award
Jen Baker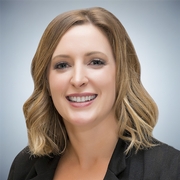 This award recognizes a pharmacist who has been in practice not more than five years, has demonstrated a commitment to pharmacy at the undergraduate level and has continued to promote the profession.
Jen Baker is a shining example of visionary and inclusive leadership for the profession of pharmacy. An enthusiastic and driven pharmacist with a passion for advocacy, Jen has worked in both community and hospital settings and brings diverse experience to her current practice.
As a student, Jen served as CAPSI representative and vice president of communications, class vice president and valedictorian. After graduation, she continued to play a leadership role in advocating for her profession as a member of the Ontario Pharmacists Association (OPA) Board of Directors.
With expertise in travel medicine, palliative care, medical cannabis, specialty compounding, mental health and addictions, pain management and geriatric medicine, Jen loves to share her knowledge. She is a sought-after speaker at professional conferences and contributes to the development and delivery of continuing education modules.
It is evident that Jen is a natural leader who has positively influenced her patients and her profession. She has demonstrated a clear commitment to outstanding patient care and innovative practice. From a ground-up travel medicine program implemented into community practice, to the launch of a new, proactive appointment-based pharmacy practice model at Whole Health Pharmacy Partners, Jen has spearheaded a number of novel initiatives aimed at improving health outcomes for her patients. As the profession evolves, Jen hopes to see better utilization of pharmacists for the health management they can provide. "I hope to see a unified scope and funding model that allows pharmacists to practice to their full ability and training," she says. "We have a long way to go to get there, but we can't afford not to push toward that type of future for the profession."
Jen completed an honours BSc in biochemistry at McMaster University and a BSc in pharmacy at the University of Toronto. She is currently the director of pharmacy excellence at Whole Health Pharmacy Partners, and a staff pharmacist at both Lovell Drugs and Lennox & Addington County General Hospital.
What do you like best about what you do?
"The most meaningful moments in my career have been opportunities to help someone in a time of need. A patient once told me that he trusted me more than anyone else because I had saved his life. I still don't have the words to describe how that made me feel and how it impacted my practice. Creating that kind of trust and rapport with another person is both moving and motivating."