CPhA New Practitioner Award
Michael Kani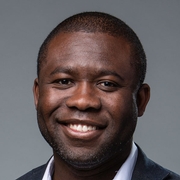 This award recognizes a pharmacist who has been in practice not more than five years, has demonstrated a commitment to pharmacy at the undergraduate level and has continued to promote the profession.
When he opened Michael's Pharmacy Remedy's Rx in Saskatoon, Michael Kani was determined to create a big city pharmacy with a small-town feel. Michael takes the time to really get to know his patients so he can help them make better, more informed and integrated treatment and lifestyle decisions.
Michael is a passionate advocate for expanded scope of practice for pharmacists. He is an innovative leader, offering services such as point-of-care tests, pharmacogenomics consults and pet medicine, to provide care for the whole family. Recognizing that no health professionals were talking about cannabis with patients, Michael became one of the first pharmacists in Canada to offer evidence-based, non-biased medical cannabis consultation, a service that has become a huge hit with patients. He also shares his knowledge with other health practitioners through speaking engagements and CE development.
Though early in his career, Michael is finding pharmacy ownership hugely rewarding. "I wake up looking forward to coming to work every day because I can directly discern the impact I'm having on patients," he says.
Michael Kani is a 2014 graduate of the University of Waterloo and a 2018 recipient of the Canadian Foundation for Pharmacy's Wellspring Leadership Award.