CPhA Honorary Life
Betty Hutt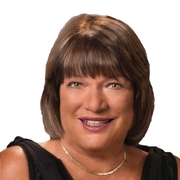 This award recognizes outstanding service to pharmacy, CPhA and the profession nationally.
A motivated pharmacist with a true passion for improving health care, Betty Hutt has dedicated her career to making a difference for her patients and her profession.
Not only has Betty embraced the changes that have come to pharmacy, she's helped deploy new systems to enhance efficiency and patient safety. As a key member of the Health PEI team since 1992, Betty was instrumental in the implementation of electronic health systems, including Cerner PharmNet in 2008, computerized physician order entry in 2014 and the PEI drug information system.
Outside her day job, Betty was very active with her provincial and national pharmacy associations throughout her career. Representing PEI on the CPhA Board of Directors from 2006-2014, she served as Vice President and Chair of the Awards Committee. From 2012-2014, Betty chaired the Governance and Association Affairs Committee, during which time she led the development of the policies required for CPhA to adopt a new governance structure. Provincially, Betty was the President of the PEI Pharmacists Association from 2002-2004 and represented hospital pharmacists from 2006-2010.
Betty is a 1976 graduate of the Dalhousie University College of Pharmacy. She lives in Alberton, and continues to work part time for Health PEI. She is a recipient of a number of pharmacy awards and honours, including the Dalhousie University Certificate of Appreciation, PEIPhA Certificate of Recognition and Bowl of Hygeia Award for Outstanding Community Service.
What is the most significant change you've seen in pharmacy over the course of your career?
"I began my career providing care as I was taught. I was very excited when my practice evolved into direct patient care as part of a health care team. This change, along with increases in scope of practice, allowed me to provide a very fulfilling, valued and important service to my patients."