CPhA Honorary Life
David Edwards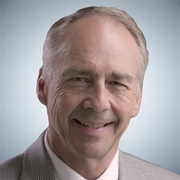 This award recognizes outstanding service to pharmacy, CPhA and the profession nationally.
A highly respected pharmacist, researcher and educator, David Edwards has made significant and lasting contributions to the profession of pharmacy.
David's early training inspired a passion for both research and education. Currently the Hallman Director and Associate Dean of the School of Pharmacy at the University of Waterloo, David received his BSc in pharmacy from the University of Toronto, and a PharmD and post-doctoral training in pharmacokinetics from the State University of New York at Buffalo. He has authored more than 90 papers that have helped advance medical knowledge in pharmaceutics and changed the practice of pharmacy for guiding patient care. One of David's most notable contributions was his work investigating the mechanism and significance of the interaction between grapefruit juice and prescription medication and the subsequent identification of furanocoumarins as the compounds in grapefruit juice responsible for these interactions.
In addition to his body of published work, David is an esteemed educator. He joined the University of Waterloo School of Pharmacy as Professor and Hallman Director in 2011 and continues to lecture on a variety of topics related to pharmacy practice, clinical pharmacokinetics and drug literature evaluation. David has seen significant change in pharmacy practice over the course of his career, and encourages his students to embrace those changes and the opportunities they provide. "It is a given that pharmacists in the future will have a wealth of knowledge about medications," he says. "The most critical skill for future success will be the ability to effectively communicate that information to patients and health care providers. Pharmacists will need to embrace their role as educators."
David has also contributed to a number of associations in Canada that govern and advocate for the profession. He has served as president of the Association of Faculties of Pharmacy of Canada, board member for CPhA, council member for the Ontario College of Pharmacists and both board member and president of the Canadian Foundation for Pharmacy, where he was an active and leading member of the Innovation Fund Grants Committee and was instrumental in advancing the work of the foundation.
What is the most significant change you've seen in pharmacy over the course of your career?
"I have seen a significant shift in the role of the pharmacist from one primarily focused on the provision of a product to one that is increasingly focused on patient care. Medications remain the cornerstone of treatment for many acute and chronic conditions and we are starting to see the value that pharmacists can provide by using our clinical knowledge to optimize medication management."