CPhA Community
Welcome to CPhA's Online Community!
CPhA members have many opportunities to connect with other pharmacists and health care professionals with similar interests. Learn more about our communities below, and become a member today to get involved in the conversation!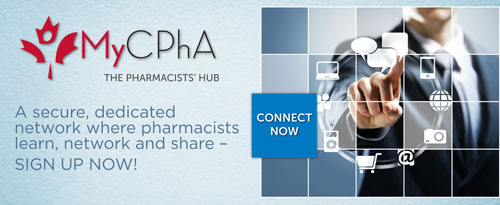 MyCPhA
Find out more about our new private, professional community for members by members on our Join MyCPhA page.
Primary Care Pharmacy Specialty Network (PC-PSN)
Jointly hosted by CPhA and the Canadian Society of Hospital Pharmacists (CSHP), the Primary Care PSN is an innovative approach to knowledge transfer, allowing pharmacists to support one another through online discussions and an extensive website that includes tools, useful links, clinical information and literature relevant to primary care pharmacy practice. The PSN is very active, with registered members providing mentorship and support to colleagues for everything from clinical questions to workflow and document management.
JOIN NOW! Contact the Administrator and provide your CPhA number and email address.
Already a member? Log in to the PC-PSN Extranet.
Breastfeeding Practice Interest Network (Breastfeeding PIN)
The CPhA Breastfeeding and Infant Nutrition list-serve provides sharing of news, information, upcoming education opportunities, breastfeeding issues, new research on medications in breastmilk and other topics for pharmacists with a particular interest in the support of breastfeeding families in Canada. The list-serve is open to pharmacists in any specialty area where young families are encountered and opportunities arise to protect, promote and support of breastfeeding.
JOIN NOW! Contact Jennifer Peddlesden for more information.
QUIT Forum
CPhA's QUIT Support Forum has moved to a new home! We will no longer posting new content on the regular QUIT Forum platform. Instead, we invite you all to join us at the Smoking Cessation discussion community on MyCPhA, a new secure website for pharmacists to learn, network and share with each other.
What does this mean for those of you who have become accustomed to sharing and receiving relevant information through the QUIT Forum?
Only that we're giving you a new home to post to, one that is more convenient. We've basically just moved house, and are still in the process of moving the furniture over too.
But first, we need to give you the key to your new home. Please see our MyCPhA page to find out how to join our private professional network. Once on MyCPhA select the Smoking Cessation community to reach your new home.
Diabetes Forum
CPhA's diabetes discussion community on MyCPhA (formerly the Diabetes Support Forum) was created for pharmacists to provide ongoing, relevant and timely support to pharmacists interested in increasing the level of care they can provide to their patients with diabetes and other related chronic conditions/diseases. To find out how you can join the conversation please see our MyCPhA page.
CPhA Blog
Join the conversation as we explore issues relating to pharmacy, initiatives we're pursuing on behalf of pharmacists, and innovations occurring in our profession.
Find us on Facebook!
Connect with pharmacists across Canada and discuss the successes and challenges of being a new pharmacist on CPhA's New Practitioners Facebook group. While you're there, visit the Canadian Pharmacists Journal Facebook page for the latest pharmacy news and research from your peer-reviewed forum for patient-centred practice.
News, Events & Blogs
May 31, 2014

Tags: Conference
March 1, 2014
August 26, 2013
Resources for CPhA Community
November 28, 2011

Deliver front-line patient care with confidence using CPhA's patient care tools and resources.
November 17, 2011

Take charge of your future today and enroll in one of our high-quality professional development programs.

Tags: Professional Development
November 4, 2013

CPhA is a strong advocate for pharmacy practice research in Canada.