Blueprint for Pharmacy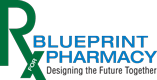 The Canadian Pharmacists Association is proud to lead the Blueprint for Pharmacy, a collaborative initiative to achieve a shared vision for the future of the pharmacy profession in Canada.
Vision for Pharmacy
Optimal drug therapy outcomes for Canadians through patient-centred care
Visit the Blueprint website to find out more about this exciting initiative and how you can get involved.
To stay informed of Blueprint activities, please join our mailing list.