CPhA Honorary Life Membership
This award recognizes outstanding service to pharmacy, CPhA and the profession nationally.
David Windross
Toronto, ON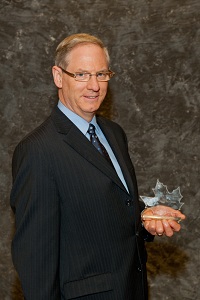 David Windross has been a strong advocate for pharmacist scope of practice changes for more than 35 years. A strong leader and relentless supporter of pharmacy, David has consistently given back to the profession throughout his career, donating his time and energy to committees and boards at the national and provincial levels, including CPhA, OPA, CSHP and CFP.
In his current role as Vice President, External Affairs with Teva Canada Limited, David fosters relationships with Teva's pharmacy stakeholders, including pharmacy associations, universities, governments and special interest groups. His leadership has resulted in Teva's continued support for CPhA and a multitude of pharmacy events across the country. Though no longer practising front-line pharmacy, David remains very connected to the profession. He travels across Canada, often meeting with pharmacists and pharmacy students to promote, discuss and debate their important role in the provision of pharmacy services to Canadians. He has mentored many pharmacists over the years, articulating well-thought out solutions to the issues facing pharmacy today.
David has received countless awards for outstanding service to pharmacy, including CPhA's Centennial Pharmacist and Meritorious Service awards, CAPSI Honorary Life Membership, OPA Distinguished Practice Award and CSHP's Meritorious Service and Fellowship awards. "To be nominated for an award by one's peers is in itself gratifying. To actually receive the award is truly an honour."
What is the most critical skill pharmacists will need to be successful in
the health care system of the future?
Pharmacists need to continue to expand their communication abilities
and effectively market their profession and services. They need to be
able to measure their financial impact on the health care system and the
health outcomes of their patients.