CPhA Honorary Life Membership
This award recognizes outstanding service to pharmacy, CPhA and the profession nationally.
Jeff Poston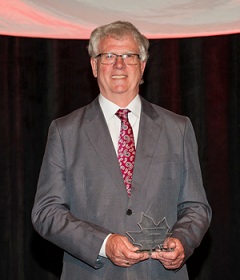 Jeff Poston became a pharmacist in the early years of the evolution of the clinical pharmacy concept that later evolved into pharmaceutical care. His dedication to expanding the pharmacist's scope of practice and extensive international relations have made him a major contributor to the advancement of pharmacy practice in Canada and around the world.
With a PhD in pharmacy from the University of Wales in the United Kingdom, Jeff's broad experience encompasses hospital, industry and community practice. For 12 years, he held an academic position in the United Kingdom. Jeff was appointed Executive Director of CPhA in June 1999, following ten years as Director of Research and Practice Development.
In his role at CPhA, Jeff successfully developed effective strategic relations with other health care organizations, including the Canadian Medical Association and the Canadian Nurses Association. His team developed the Blueprint for Pharmacy, a strategic action plan for the future of the profession. He was actively engaged in the international pharmacy sector and built new working relations with national and provincial pharmacy organizations at home and abroad. Jeff
frequently contributed to government consultations on a wide range of policy issues relating to pharmaceuticals and health care.
A hallmark of Jeff's career was a commitment to innovation and pioneering new approaches to expanding the role of the pharmacist. Some of his successes include developing health services research relevant to the pharmacists' role in health care in Canada, developing practice tools and guidelines to enhance practice, creating policy documents to support advocacy initiatives and advancing technology relevant to pharmacy practice. His experience in the United Kingdom and internationally brought a unique perspective to the work Jeff carried out in Canada.
In his 14 years as CPhA's Executive Director, Jeff interacted with virtually every pharmacy leader in Canada and internationally, seeking to learn from them and to offer guidance and support the evolution of pharmacy. His commitment to ensuring that the pharmacist's voice was heard has had a profound effect on the profession and will be felt for many years into the future. "It is very gratifying that we have seen the changes in legislation that have resulted in an expanded scope for pharmacists," he says. "It has been a delight to have been a part of the leadership role that Canada has played in these changes."
What is the most critical skill pharmacists will need to be successful in the health care system of the future?
Communication and caring skills will become increasingly important, but pharmacists must also retain their scientific knowledge. As the scientific basis for drug therapy changes, it will be vital for pharmacists to maintain and expand their unique body of knowledge relating to drugs and therapeutics.