ADAPT Patient Care Skills Development
Announcement: The ADAPT program is closing.
After years of successfully training pharmacists to expand their patient care skills and transform their practice, the ADAPT program is coming to an end. The award-winning program has helped almost a thousand pharmacists across Canada since it started in 2010.
Course 1: Medication Assessment and Collaboration (Course no longer available)
Course 2: Patient Interviewing, Assessment and Documentation (Course no longer available)
Course 3: Evidence-based Clinical Decision Making (Course no longer available)
Course 4: Putting It All Together: The ADAPT Certificate in Patient Care Skills (Last session begins February 1, 2017. Only open to pharmacists who have completed Courses 1, 2 and 3)

ADAPT gives you the foundational patient care and medication management skills you need to fully leverage expanded scopes of practice. It changes how you practise, while you practise.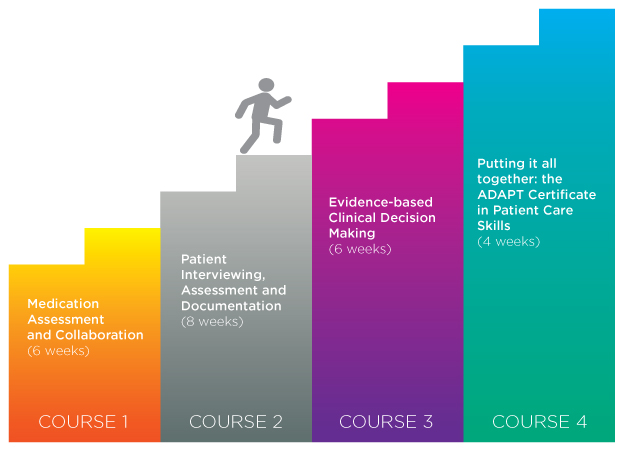 Improve your patient care skills
The four-part online program increases your confidence and experience in integrating new patient care skills, processes and tools into your everyday practice, including:
Conducting thorough medication assessments
Collaborating successfully with other health care providers
Interviewing and assessing your patients (incorporating physical assessment and laboratory data)
Making evidence-based clinical decisions
Using validated documentation practices to support patient care
Developing and implementing care plans
ADAPT also features:
Evidence-based content from leading experts in an interactive online learning environment
Standardized tools for the entire spectrum of medication management
Continuous assessment, feedback and mentoring by peers and trained moderators
Research shows 85% of ADAPT participants continue to report sustained increases in skills and confidence after the program. Of these, 40% report billing more for medication management services as a result.

Every mountain is climbed one step at a time. No more excuses. ADAPT now.
System requirements
This is a computer-based online course and operates on the University of Waterloo LEARN platform. You will need:
A desktop or laptop/notebook computer; the course is not optimized for tablets or smartphones
High-speed Internet access
Recommended Internet browsers: Firefox, Internet Explorer 9, Safari
Soundcard and speakers or headphones
Adobe Acrobat Reader
Adobe Flash
For more information run a test of your computer system.

Learn more about the ADAPT courses
Course 1: Medication Assessment and Collaboration
Course 2: Patient Interviewing, Assessment and Documentation
Course 3: Evidence-based Clinical Decision Making
Course 4: Putting It All Together: The ADAPT Certificate in Patient Care Skills